About Us
Treasure Coast Miata was started in 2010 to provide a low-cost alternative for those Miata DIY'rs and Spec Miata racers looking for quality used & salvage restoration parts for their Miata's. From there we have added a full range of New Mazda Miata parts and kits. We also now stock many of the common Miata Performance and Spec Miata parts. We have an extensive line of Light Weight Fiberglass parts for the 3 generations of Miata. In addition, we have many of our own line of hard to find rebuilt Miata products. Our goal is to help you get the most enjoyment you can get out of your Miata. At Treasure Coast Miata (TCM) we always put the customer 1st and try to be extremely responsive with customer inquiries, questions, and shipping.

TCM was a natural offshoot of our love for all things racing, whether it's bikes, NASCAR, Off Road or Road Racing we like it. The Treasure Coast Racing team has 3/4 SCCA Spec Miata's that we campaign in the tough SE Division Spec Miata Road Racing and Endurance Series (one is always under construction). We also have one Chump Car in competition and one also under construction. Please check out our Racing Team Page.
Our Team:
Melissa Saunders – Owner, Office Manager & Shipping Dept.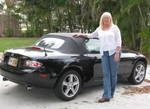 Wes Saunder – Owner, Marketing and Sales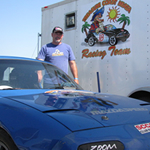 Octavio Deiques - Part owner/manager of sales and operations