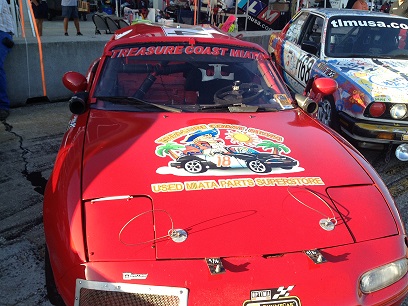 The Treasure Coast Racing Team and supported drivers had a busy time last weekend With the SCCA Team at Daytona and the TCM supported Chump Car Racers at Sebring.
At Daytona early showers for qualifing left the #18 of Wes Saunders, #28 of Andrew Leister and the #13 of Vic Klassen in 8th, 12th and 15th starting positions for the 1st regional race. The #18 car quickly moved up the field in the early portions of the race. It was in 2nd spot when engine problems ended that cars weekend. The #28 finished a respectable 8th and the #103 was 12th. In the 2nd two regional races, Andrew, with out a drafting partner had the speed of the top 5 but could not stay within stricking distance and settled for 6th in both races. Vic was also flirting with a top ten position in both of the races.
In Chump Car action, the #74 Treasure Coast Miata entry ran well all day and finished in 9th out of 100 cars! The GrassRoots Motorsports new yellow Chump Car supported by TCM finished mid pack, for a respectable first time showing and a great time by all on that team. The exhibiton class Miata of Dana Morrisin did not fare as well as it was involved in a wreck with a VW that ended its day.