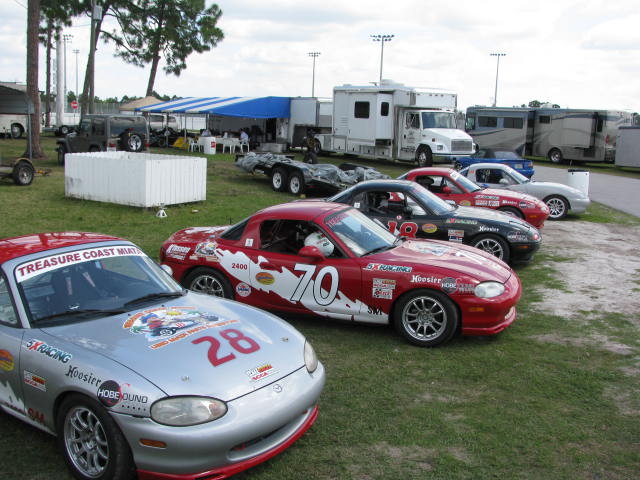 The Treasure Coast Miata Team had a succesful weekend at Palm Beach International Raceway. The finishes were good but the team could not beat the BSI drivers, brothers Chip And Matt VanVurst. In the 1st SARRC race, Jerry Rothgeb in the #70 tried in vain to get past one of the brothers, Then Wes Saunders in the # 18 had a try at them, both were unsuccesful with Wes getting a 3rd and Jerry finishing 4th.
In the FES Enduro Andrew Leister in the 18 started the race in last (car switch to the #18) and Jerry in 4th, working together they were challenging for 2nd & 3rd until the #18 had an alternator failure. Jerry finished out the race with a hard earned 2nd place finish.
In the 2nd SARRC race, it again was the VanVurst brothers in the lead with Wes and Jerry trying every move they could to get by, then the rains came, Wes fell back to 7th then worked his way back up. Rothgeb finished 3rd and Saunders finsihed 5th, unable to get around a strong Mark Gibbons.
In the $1,000 to win Miata Madness 1 hour Enduro race, Andrew again started the #28 and Rothgeb in the #70, This time they had another BSI driver Selin Rolin, to contend with. By half way point when Saunders got in the #28, Chip had a comanding lead with Matt holding a 15 car length lead. Wes and Jerry sloooowly started to reel in Matt, but ran out of time, with Rothgeb pulling off a last lap pass to take 3rd and Saunders finishing 4th.
The next event the team will be competing at will be a double enduro & Double Sarrc race, June 8 & 9th at Homestead Speedway. Come on down and join the fun!