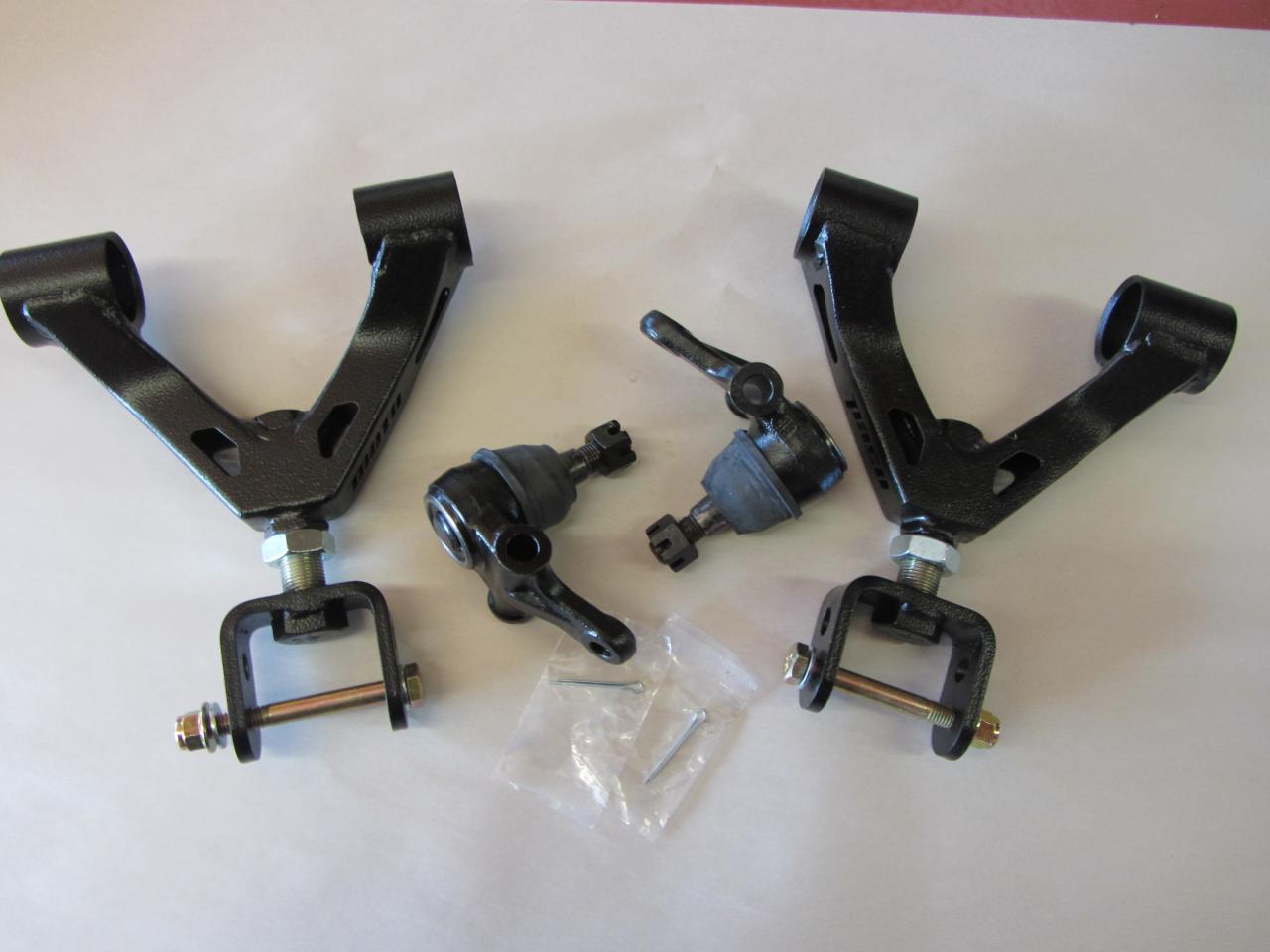 Struggling with getting enough Camber on your Miata? The TCM Miata Camber Kit fits '90 - '05 Miata's and will work on your track, race, street or highly lowered Stance/Show cars. You get (2) adjustable upper rear control arms and (2) extended front lower ball joints. Buy these together and save! With this kit you should be able to get 4 degrees of negative camber or more.
Here are the details of the two components;
'90 - '05 Extended Front Lower Ball Joints;
Looking for more front camber, but are frustrated with slipping bushings or hampered by minimal spring clearance? Here's your solution.
Kit Includes: two ball joints with new nuts and cotter pins for a complete replacement of the OEM lower ball joints. Sold as a pair. One pair is needed per car.
This extended lower ball joint bolts in place of the factory unit, but adds 3° of negative camber at stock ride height by pushing the bottom of the tire outboard. You'll actually gain tire clearance. At stock ride height, you'll be able to run between -.5° and -3.5° of camber. Lowered cars will be able to attain even more negative camber
With a forged body, they're safer and stronger than OE parts. Made by our friends over at Bauer LTD which is an ISO9001 company and will fit all NA or NB Miatas.
Easy--swap out Lower Ball Joints in 20-30 minutes -- no bushings to press or A-arms to remove
Adjustable Rear Upper Control arms;
These rear upper control arms are a bolt-in replacement for the stock part. They will work great on track cars, off road Miatas and drift cars.
Unlike other arms on the market, they use the stock Miata bushing sizes. This gives you the choice of either rubber or poly bushings depending on your needs.
Why? So you can adjust your camber quickly and easily without affecting toe. It'll also let you reach alignment ranges that are not possible on stock arms. The adjustment moves the top of the tires inboard, so if you're trying to maximize your fender clearance these will help.
To adjust, simply remove the bolt attaching the control arm to the upright and rotate the end of the arm before locking it down with the lock nut. Each 180 degree turn will change camber by 0.25 degrees, making it easy to make precise, consistent adjustments. There's also no chance of the setting slipping under load.
Unlike other aftermarket control arms, these are properly contoured to clear the rear subframe. There is no limitation to compression travel. They can add up to 8 degrees of camber in each direction. Yes, you read that right.
Fabricated in the USA out of High Strength Low Alloy steel, these have been through both Finite Element Analysis and real-world testing on a 466 rwhp Miata running 225-series Toyo RR tires with downforce. They are stronger than required by a substantial margin.
For 1990-05 Miatas. Sold in pairs.
Optional Mazda Competition Bushings available for the upper control arms, NOT installed.
Options available to add '90 - '97 steering rack Spacer Kit arms and "R" package tie rod ends for a complete suspension do over. The use of all these components will give you the best lowered steering geometry.