Gilbert Racing Series Spec Miata Summer Shot out won by Treasure Coast Miata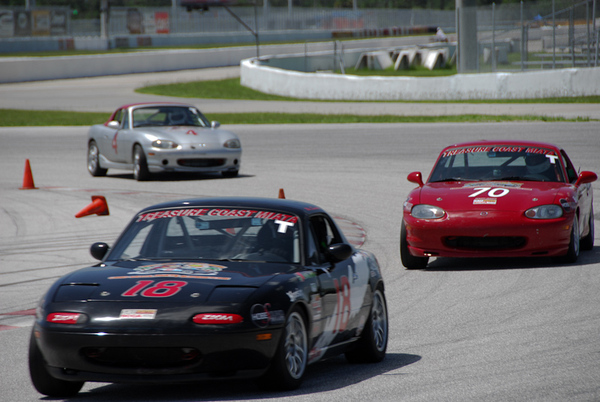 Last weekend the Gilbert Racing Series was held at the Palm Beach International Raceway. In the Spec Miata Class, Wes Saunders of Treasure Coast Miata took the overall win. In the first race, the #28 of Saunders could not hold off the hard charging car of Mark Gibbons from "Old Dog Racing". In the second race the treasure Coast Miata Team finished fixing a locked up transmission in the #70 of Jerry Rothgeb just in time for the race start. Starting from the back Jerry caught up to Saunders in the lead quickly. A great battle ensued but with Wes's tires failing he again couldn't hold off the challenger with Rothgeb taking the win. In the 3rd and final race the TCM Team faced another major repair replacing the rear housing in the #70 car of Rothgeb's. Jerry just made the start, again. In this race Saunders lead from Green to checker but had to hold of challenges every lap from first Gibbons and then Rothgeb. At the checker all three cars were bumper to bumper.
Reader Comments (0)
Post Comment
You must login to post comments.