The Treasure Coast Miata Race Team scores multiple podiums at the Palm Beach Classic SCCA races
Multiple podiums were achieved by the Treasure Coast Miata Race Team this weekend at the Palm Beach Classic SCCA races at their home track, Palm Beach International Speedway. The highlight of the weekend was Jerry Rothgeb's win in the 3rd regional race. Jerry came from last position to Challenge Wes Saunders for the lead just after half way. He then held off a hard charging Selin Rollan for the win! Congratulations Jerry! The team also scored a 2nd and 3 thirds in the regional and SARRC races. The 3 hr Enduro saw co-drivers Wes Saunders and Andrew Leister overcome tire wear issues and finish a hard fought 4th place in the new #28 rental car. 1st time renter Louis Pequito took the # 28 Treasure Coast Miata rental SM to a 3rd place finish in the ITS class. Good job Louis! The #03 Spec Miata of Vic Klassen that just built by Treasure Coast Miata made it's debut and ran flawlessly through the weekend. Thanks to the crew of Melissa, Kathy, Glen, Steve & Tim for keeping the cars ready to hit the track
Jerry also wrapped up the Championship in the Florida Endurance Series Championship with his top ten finish.
In the Florida Series Spec Miata Championship Wes Saunders finished ahead of 1st place racer Raymond Philibert in all 3 races but at this moment we don't know if it was enough to secure the title.
Next race is with the chump car series at the historic Road Atlanta for a 14 hr race on Dec 8th. The TCM house car will be sporting a new paint job. Stay tuned for further updates!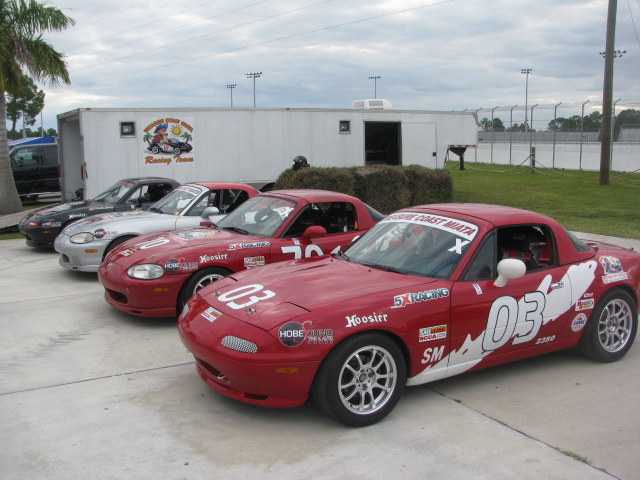 Reader Comments (0)
Post Comment
You must login to post comments.